Ooooh - first blog post of the year and its not even October yet...
I've been thinking about getting over to Lincs again recently, having been excitedly reading rare bird reports and thinking about migration, so got in contact with a few birding pals and tried to get something organised. Unfortunately due to various reasons, today was the first day that I could manage.
I picked up Pete from Bingham at 6am and we headed east, knowing that the coast had been particularly quiet again after another autumn of westerly winds and unfavourable conditions. However we were of the opinion that if we didn't try then we wouldn't see anything at all. A decent outlook, at least then we couldn't be too disappointed.
We decided on giving Rimac another bash and walked from the carpark up to Paradise Pool and back. Migrants were particularly thin on the ground - we only saw a couple of
Chiffchaff
and one or two
Goldcrests.
Overhead there was a single
Swallow,
a few
Siskin
and a small trickle of
Meadow Pipits.
The bushes were particularly quiet, so we didnt waste too much time on trying to make something out of nothing. A couple of
Marsh Harrier
out on the saltmarsh brightened things up a bit though as well as up to 6
Stonechat
and a few flocks of
Pinkfeet.
High tide at Paradise pool was quiet too with just 26
Redshank
and a couple of
Black-wits
among a scattering of gulls.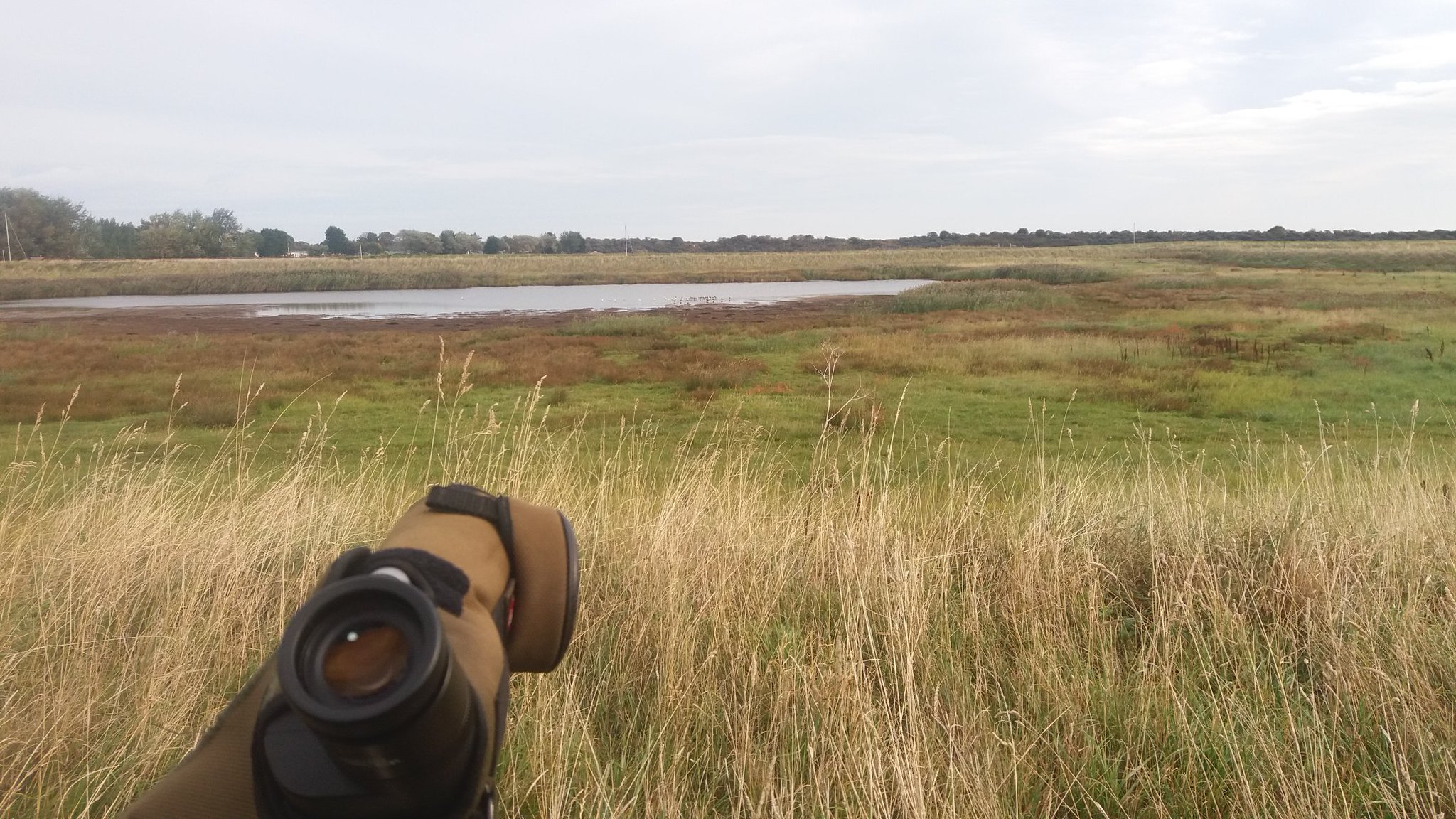 Paradise!
We decided not to do much of the south of the reserve as it seemed horribly quiet on a quick walk-round, so we relocated to some of the dunes south of Mablethorpe. We settled on Marsh Yard and had a short but productive sea watch whilst eating lunch.
Red-throated Divers
were settled on the sea with 6 or more seen in various states of moult, but mostly still in summer plumage which was nice to see. An exceptionally close-in
Manx Shearwater
gave good views too, as did a juvenile
Arctic Skua,
but otherwise movement was limited to mainly a few
Gannets.
Afterwards we gave the landward side of the dunes a go, but aside from a
Short-eared Owl
flying over our heads and heading inland, there was little to write home about. The site seemed pretty good though and there was a nice little woodland tucked behind the dunes at one end that looked good for migrants given the right conditions. Today was not one of those days though, all we saw was 2 Muntjac and very few birds, but certainly a site to go back to.